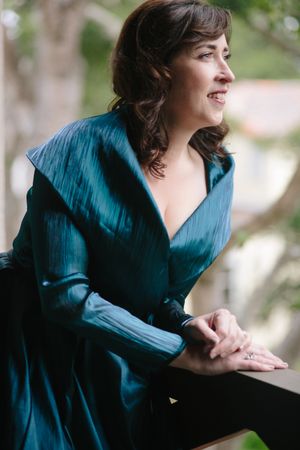 Biography
Widely praised for her musical intelligence and "expressive virtuosity" (San Francisco Chronicle), Meg Bragle has earned an international reputation as one of today's most gifted mezzo-sopranos. An accomplished early music specialist, she has sung in North America and Europe with the English Baroque Soloists, Philharmonia Baroque Orchestra, Bavarian Radio Symphony, Netherlands Bach Society, Tafelmusik Baroque Orchestra, Orchestra of the Age of Enlightenment, St. Paul Chamber Orchestra, Les Violons du Roy, Orpheus Chamber Orchestra, Orchestra of St. Luke's, Orchestre Révolutionnaire et Romantique, American Bach Soloists, Apollo's Fire, Arion Baroque and the Dunedin Consort. 
A leading interpreter of Baroque and Classical repertoire, Ms. Bragle has appeared with many symphony orchestras in the U.S. and Canada including the Philadelphia, Houston, Seattle, Toronto, Atlanta, National, Detroit, Cincinnati and Colorado Symphonies; the National Arts Center Orchestra, Victoria Symphony and Calgary Philharmonic among others. 
Ms. Bragle is an accomplished recording artist with over a dozen recordings to her credit. Her discography includes four recordings with Sir John Eliot Gardiner and the English Baroque Soloists, including Bach's Easter and Ascension Oratorios – the vehicle for her BBC Proms debut − and Bach's Mass in B Minor. She made several recordings with Apollo's Fire - Mozart's Requiem, Handel's Dixit Dominus and Ode for the Birthday of Queen Anne, Monteverdi's Vespro della Beata Vergine, and L'Orfeo. Other recordings include Bach's St. John Passion, the complete works of Chiara Margarita Cozzolani, Pergolesi's Stabat Mater, Toby Twining's Chrysalid Requiem, Anthony Newman's Requiem, Copland's In the Beginning and the Five Borough Songbook.  A world premiere recording of Daron Hagen's Art of Song will be released in 2023. 
Ms. Bragle lives in Philadelphia, where she is Artist in Residence at the University of Pennsylvania and also directs the Collegium Musicum and Opera and Musical Theater Workshop.